Making Work-from-Home Work
The Skibicki farm sits three and a half miles south of rural Fordville, North Dakota. It's where Greg Skibicki farms beans, wheat, and corn, and where he and his wife Janelle have raised their two boys, Ezra and Evan.
"There is no other place that I would want to live," Janelle said. "Growing up on a farm, to me, is the best thing we can do. Raising our kids in the farm life teaches them hard work and ethics and all those great things."
In March 2020, the farm also became Janelle's full-time office. Janelle is the Senior Vice President of Human Resources at Ag Country Farm Credit Services. As COVID-19 cases continued to climb across the country last spring, Ag Country was one of many organizations to close its office doors and send employees home indefinitely. 
"In about a week and a half, we transitioned 600 employees to fully remote, a thing we thought we couldn't do," Janelle said. "But it worked, and for probably 10 months I worked 100 percent from home." 
COVID-19 has changed the way that we work, not just for the duration of the pandemic, but for many years to come. With the abrupt closing of offices, millions of Americans were forced to work remotely for the first time. And while it certainly comes with its challenges–managing distractions, "shutting off" at the end of the day–many have found that they can work just as or more productively from the comfort of their homes. More than half say, given a choice, they would want to keep working from home even after the pandemic. 
Remote work is part of our new normal—and it requires a fast, reliable Internet connection.
"I am on my computer all day, everyday," Janelle said. "Without my internet from Polar, I couldn't have done my job."
Adjusting to the New Normal
Unlike many, Janelle came into 2020 with prior experience working from home. Over the past ten years, she has spent every Friday working from her laptop at her dining table. Still, transitioning to full-time remote work presented challenges. 
"A big adjustment when I first started working from home full-time is that the kids were home too," Janelle said. "My office was on our small desk in our kitchen and the boys were both set up on the dining room table right across from me. So challenging is a minor word for it."
In addition to her usual tasks, Janelle was suddenly helping the boys with homework, preparing lunches, and doing chores around the home. It was difficult in those early months for Janelle to focus on any one thing. Fortunately, after a few months and a bit of clever rearranging, she was able to turn one of the boy's bedrooms into a home office. 
Now, Janelle has the space and privacy she needs to work from home effectively. But space wasn't the only obstacle that Janelle had to overcome; as Senior VP of Human Resources, Janelle's work is all about building and fostering relationships. Before the pandemic, her days were spent traveling between Ag Country's offices, having face-to-face conversations with her teammates and interviewing potential employees. 
"Working 50 miles from one of my offices and not being with people all the time was a change," Janelle said. "Being able to video conference and be face-to-face that way has really helped the transition. It's helped me connect with those coworkers. Is it the same as in person? No, but it's a good second place."

Amidst the challenges that Janelle experienced in those first months of working from home, one thing she didn't have to worry about was her Internet connection. She can spend entire days in back-to-back video calls without her camera cutting out, allowing her to maintain those relationships that her job revolves around. She can even upload and download files in a fraction of the time it takes her coworkers living in more urban areas.
"A lot of my colleagues have issues with their Internet speeds, their Internet cutting in and out, and I have not had those issues at all," Janelle said. "At one point, I was working on my computer on a conference call, the kids were both on their machines, and my husband Greg was on our home computer at the same time and we did not have any issues."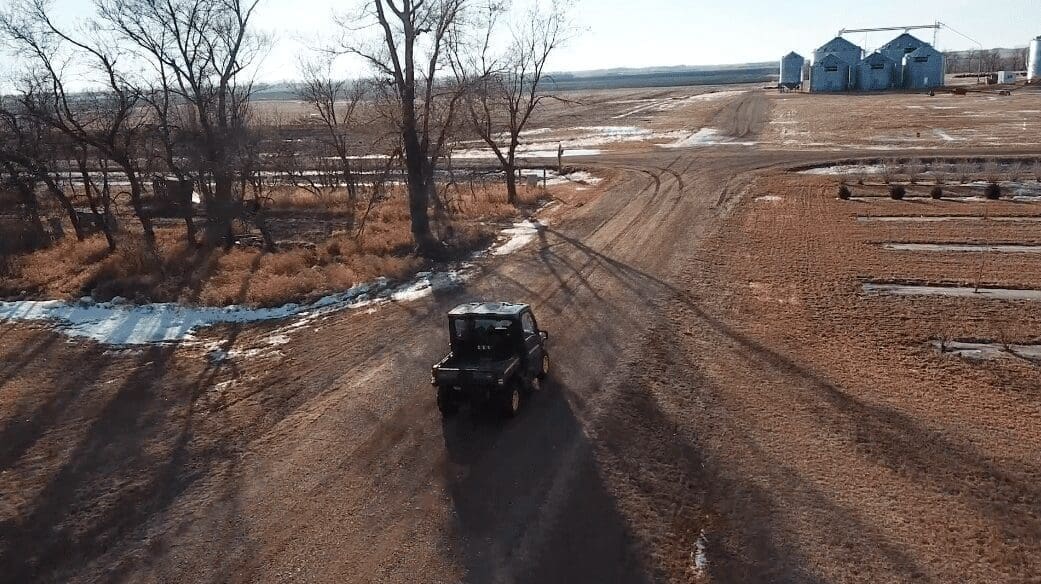 Time for What Really Matters
With high-speed broadband from Polar, Janelle was able to work from the rural farm she loves during the worst months of the COVID-19 pandemic—keeping her family safe, and giving her time to focus on what really matters. 
"What I've saved in drive time has been huge. From our house to my office is 50 minutes one way," Janelle said. "It's been absolutely great for us. I get to see the kids before they go to school in the morning. I'm here when they come home at night…it's nice just to get to see them come off the bus. I never got to do that before."
While it certainly took some patience and flexibility from the whole family, Janelle has grown to love working from home. Even as restrictions have eased and more of her colleagues have returned to the office, she continues to work remotely three days a week. Rather than running in the door at 5:30 and having dinner on the table at 6, she can take her time preparing meals for the family. As temperatures rise, she can work in her garden and enjoy bike rides and evening walks with the boys.
"During the pandemic, we really didn't feel like we were on an island all alone out here. We had each other and, you know, we were very blessed" Janelle said. "We didn't feel disconnected from anybody. I was able to stay connected to the office, the kids were able to stay connected with school. So it worked. Do I want to do it again? Probably not, but it worked."
Whether you are working from home full-time or just some of the time, make sure that you have the speed you need to get the job done. Contact Polar at 701.284.7221 or visit polarcomm.com to upgrade your Internet speed today.